Becoming a priest of the Institute of the Incarnate Word
In both the novitiate and the seminary a young man's formation is focused on four main areas: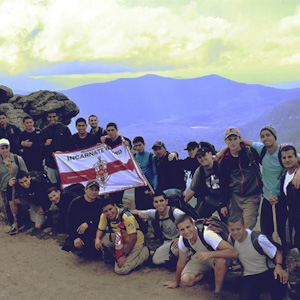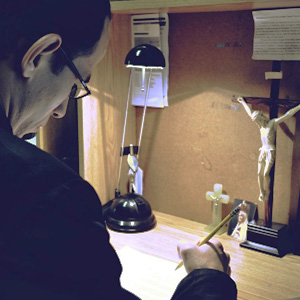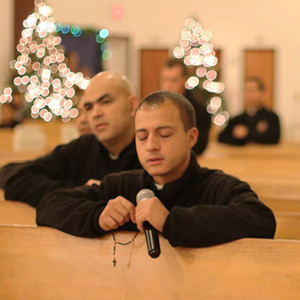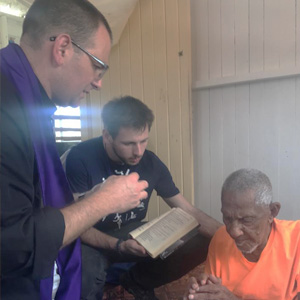 A novitiate and a major seminary must take care that the future priests are duly prepared, employing all the means so "the whole training of the students should have as its object to make them true shepherds of souls after the example of Our Lord Jesus Christ, teacher, priest and shepherd" (OT 4). Priests configured to Christ head and shepherd and thus committed to share and continue his mission of salvation in the Church and in the world (Cf. PDV 61).  Priests configured to Christ head and prompted "to serve Christ, Teacher, Priest and King, in whose ministry they participate. For this ministry, the Church incessantly builds itself here on earth, as a people of God, body of Christ, and temple of the Holy Spirit" (PO 1).
This is why they must specifically be prepared to perform the threefold ministry of teaching, sanctifying, and guiding the people of God, as ministers of Christ and as participants in his only priesthood. "Hence, they should be trained for the ministry of the Word, so that they may gain an ever increasing understanding of the revealed Word of God, making it their own by meditation, and giving it expression in their speech and in their lives. They should be trained for the ministry of worship and sanctification, so that by prayer and the celebration of the sacred liturgical functions they may carry on the work of salvation through the Eucharistic sacrifice and the sacraments. They should be trained to undertake the ministry of the shepherd, that they may know how to represent Christ to men, Christ who "did not come to have service done to him, but to serve others and to give his life as a ransom for the lives of many" (Mk. 10.45; Jn. 13.12-17), and that they may win over many by becoming the servants of all (I Cor. 9.19)" (OT 4).
To attain this proper preparation of a future priest in order to perform the threefold ministry fruitfully and with dignity, a program of life becomes necessary—a program that in being organized and unified dedicates itself intensely to all aspects of formation: human, spiritual, intellectual and pastoral, also bearing in mind, in the midst all these elements, the specific objective of this whole formation—an objective that confers it unity and consists in preparing these shepherds of souls for the priesthood (Cf. PDV 61). This pastoral character of the entire education, precisely for being its specific objective, it not a secondary element, not even an additional element, although important, but rather the essential and even principal element of the formation of seminarians, future shepherds. Directrices teaches: "all formation of candidates to the priesthood is oriented toward preparing them in a specific way to communicate the charity of Christ, Good Shepherd. Therefore, this formation, in its diverse aspects, must have an essentially pastoral character" (OT 4).
In this sense, we can rightfully affirm that a seminary, more than a place or temporal space, is a "spiritual place" (PDV 42) in which is helped and ensured the educational process of becoming, through the sacrament of orders, "a living image of Jesus Christ, Head and Shepherd of the Church" (PDV 42). 
To conclude, let us say that we want to form seminarians who live the "lordship," over themselves, over people, over the world, and over the devil; who enjoy the "liberty" of God's children in the full docility toward the Holy Spirit, being convinced that everything are yours; whether Paul, or Apollos, or Cephas, or the world, or life, or death, or things present, or things to come; all are yours; and you are Christ's; and Christ is God's. (Co 3:21-23); who have a "spirit of prince" and who are noble;681 who are valiant and are totally resolved to attain holiness; who overcome the temptations characteristic of the priestly state, such being egocentric, functionary, stingy, inconstant, boring, improviser, frivolous, irritating, mediocre, parochial, affected, avaricious, ill-humored, secularized, fearful, timid, rambling, and ubiquitous.
Seminarians who admire and love the truth, actualized by an extensive intellectual formation; who dedicate time to theory and intellectual leisure and that it be a true search for the truth, i.e., that he be able to know it with certainty and to appropriate it in contemplation; an intellect applied to temporal things in subordination to the consideration of eternal realities so that the one will serve as a means to know the other: the invisible things of him since the creation of the world are clearly seen, being perceived through the things that are made (Ro 1:20), and from the eternal, as known, to judge the temporal things. An intellect that searches for reason, to find and rest in what is understood, for "reasoning in regards to understanding is like moving in regards to resting or as acquiring is to possessing." Therefore, reason and intellect can be compared, as time and eternity.As Boethius says, "Reason is exclusive to the human genus as intelligence is proper to the Divine."
Accustomed to discipline, i.e., "submission to the rules of life in order for the truth to become incarnate in the life of the disciples;"689 that they be virtuous men in accord to the doctrine of "the great teachers of the spiritual life, especially Saint Augustine, Saint Thomas, Saint John of the Cross, Saint Teresa of Jesus, Saint Ignatius of Loyola, Saint Louis-Marie Grignion de Montfort, Saint Thérèse of the Child Jesus; and from the example of all the saints of all times that the Church proposes as examples of virtue for us to imitate."
Seminarians who know how to value each thing in a hierarchical manner, who love the congregation living its own charism.

Seminarians with an artist's soul, for "who can deny that the religious sentiment, the religious truth, the longing of what is finite for what is infinite have been and always will be springs that give life to the most lofty poetry? Is not this, in fact, its highest and purest form? When, with its characteristic language—in which song prefers to speak, painting prefers argumentation, sculpting prefers speech—poetry expresses the mystical experience, the psychology of grace, ecstasy, and it rises to the Supreme Beauty, to God, to the Truth that transcends all thought…then it becomes a magnificent gift from God's kindness; it becomes a reflection of his grace."
Above all, we want to form seminarians who are disposed to "given over totally to the service of God and to the pastoral ministry," even including martydom in the example of the first Argentinean blessed, Benito de Jesus; of the priest and seminarian martyrs of Barbastro; of the Blessed Augustine Pro, priest; and of so many others. 
In conclusion, we want to form our future priests so that they can be "poets, metaphysicians, and soldiers, who sing, contemplate, and fight."